Hey, February is a celebrated time of year! Groundhog's Day, Black History Month, gorgeous weather in AHFW's home state of Arizona, an occasional extra 24 hours for leap year, and of course, Valentine's Day, one of most cherished days for couples.
Although, Valentine's Day embraces loving relationships, some should not be modeled as examples for romance. To our delight and dismay, bad relationships can be found almost everywhere on the big screen. A dime a million, perhaps? Well, AHFW "enjoyed" these 10 GREAT bad-relationship movies!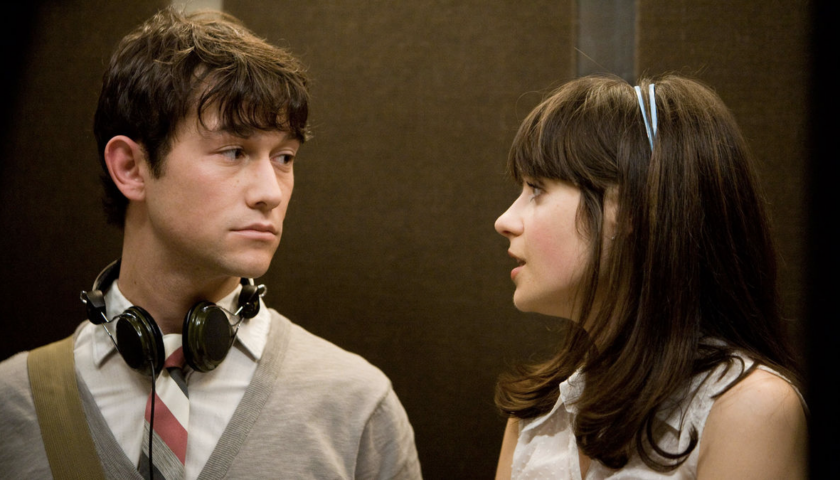 10. "500 Days of Summer" (2009) – Director Marc Webb and writers Scott Neustadter and Michael H. Weber wondrous concoction confronts the lifecycle of a relationship, but in a nonlinear timeline. Greeting card writer Tom (Joseph Gordon-Levitt) and office employee Summer (Zooey Deschanel) are 20-somethings who start a romance. Unfortunately, he is more enamored with her, and hence, their love does not last. Tom's teenage kid sister repeatedly gives him sound advice, but he has to run through his pain on his own. Sound familiar???
"500 Days of Summer" shines with its surprising turns, as the movie jumps from Day 290 to Day 1 to Day 488 and shakes our foundations and expectations of a traditional rom-com. Simultaneously, we feel the familiar beats of our own past relationships and cringe, reminisce, laugh, and shed some tears, and are reminded that not every relationship is meant to be.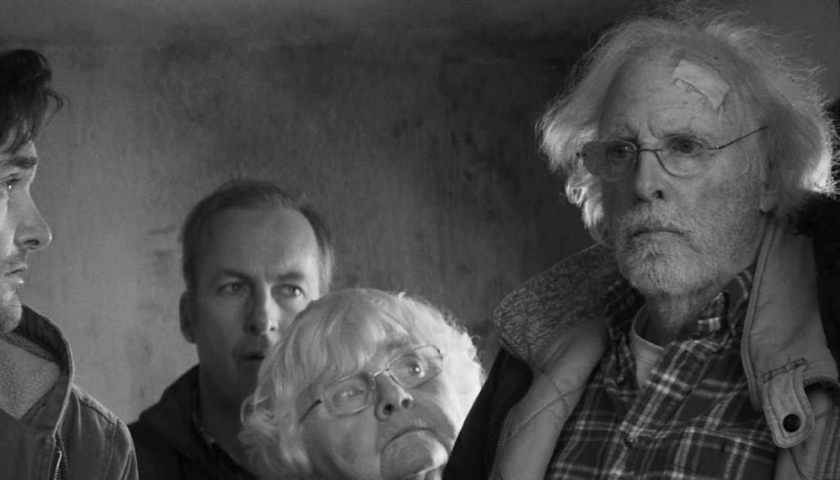 9. "Nebraska" (2013) – Woody Grant (Bruce Dern) is delusional. He repeatedly attempts to walk from Montana to Nebraska to collect an alleged lottery prize, and finally, his son David (Will Forte) decides to save his dad from the continued pedestrian torture. He drives him to Nebraska, and they make a dysfunctional road trip out of it in one of Alexander Payne's ("Election" (1999), "Sideways" (2004)) signature dark comedies.
Even though Woody and David's father-son despondent bond is in dire need of some cheer, his marriage to Kate (June Squibb) has twisted in total misery for decades. He's a mumbling, introverted alcoholic, and she unloads her resentment as often as she breathes. Both Dern and Squibb earned Acting Oscar nominations by effectively portraying a couple that bathes in apathy and cynicism under a towering shadow of regret. Woody may be delusional about most aspects of his life, but his thoughts about his marriage to Kate are dead on, and she reciprocates his bile.
If anyone questions their upcoming nuptials or has second thoughts about their existing marriage, "Nebraska" is the movie to see, because afterwards, you might instantly turn into a runaway bride or groom or scramble to download and promptly sign divorce papers.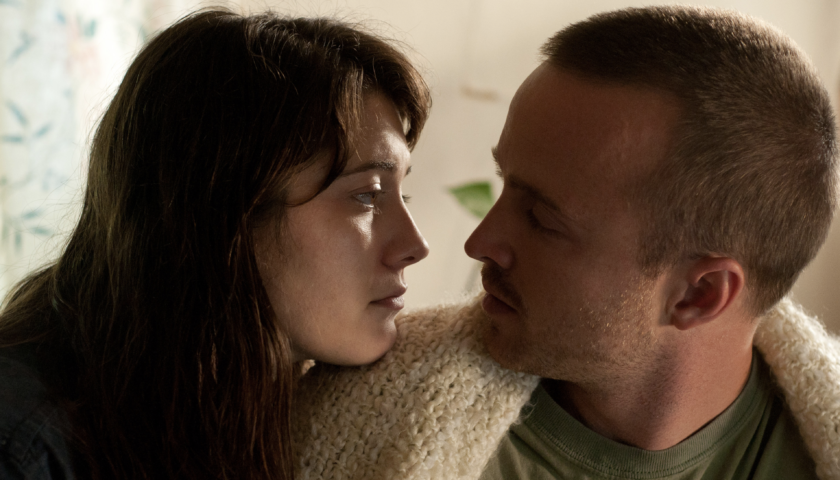 8. "Smashed" (2012) – Alcoholism tortures the soul by compelling one to share their existence with a drug, and Kate (Mary Elizabeth Winstead) and Charlie (Aaron Paul) both perfectly fit the profile. They struggle with alcohol, but director James Ponsoldt keeps much of the focus on Kate, as her addiction greatly impacts her job.
She's an elementary school teacher.
Kate eventually hits rock bottom and decides to get sober, but her uphill climb becomes considerably steeper, because Charlie does not share her goals. Their marriage has drifted apart in only one way, but it's a massive one, and Kate ultimately has to decide which commitment means more to her.
Nick Offerman, Megan Mullally, Octavia Spencer, and Mary Kay Place play key roles in this tiny indie with a big message.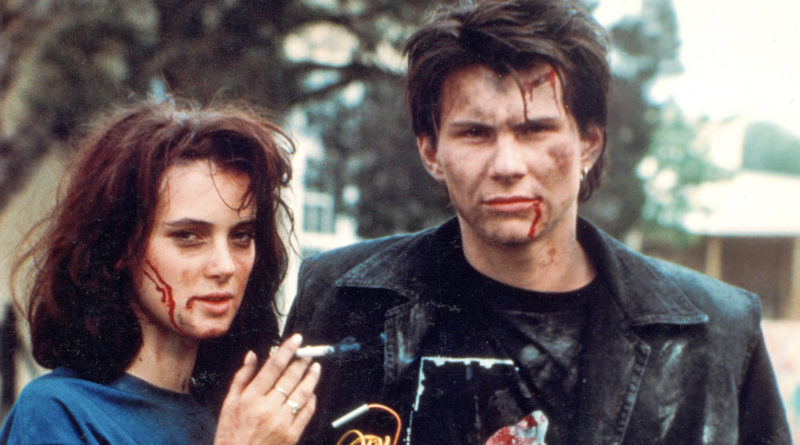 7. "Heathers" (1989) – Ah, the new kid. The new kid at school automatically qualifies for attention from other students, because he or she is an unknown.
"Who is the new kid?" "What's her deal?" "Where is he from?"
Someone new – at school, work or a social club – can offer a fresh perspective, and in this case J.D. (Christian Slater) certainly offers one at Westerburg High School in Ohio. He's a dark, brooding loner and speaks a lot like Jack Nicholson.
Veronica (Winona Ryder) has recently grown tired of the Heathers' Clique (three girls named Heather who "run" the school), and J.D. offers a rebellious alternative. They soon become an inseparable couple. This lasts for a while, until Veronica realizes that he's a psychopath, who enjoys killing Westerburg's student population.
Yea, when your boyfriend or girlfriend hands you a gun, says that it's filled with blanks, tells you to shoot, and upon the action, you discover that it's filled with LIVE ammunition, well, it's time to plan your exit from the relationship.
"Heathers" takes John Hughes' high school formula but introduces impediments like facing attempted murder and murder, instead of feeling like an outcast at a party or trying to impress the prom queen. Hey, director Michael Lehmann's film has staying power, even after 31 years, and a new viewing can only be a helpful reminder that dating a serial killer is not the greatest of ideas.
Yes, we "can" handle the truth, J.D.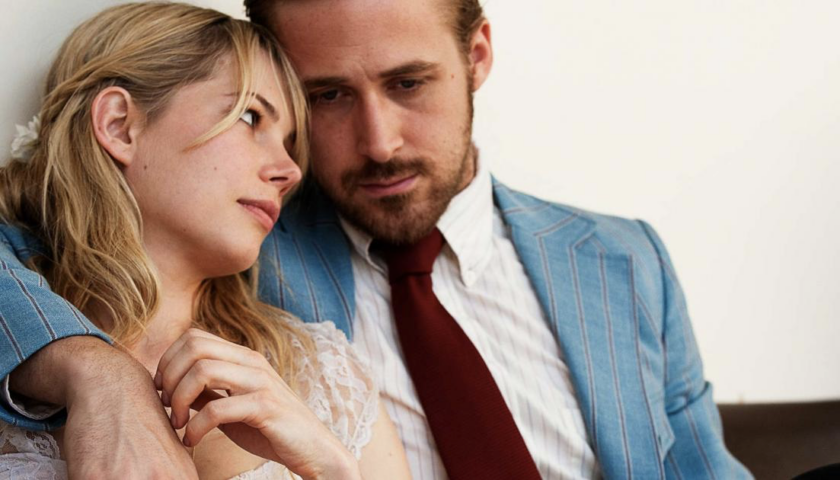 6. "Blue Valentine" (2010) – The title of director Derek Cianfrance's film is exactly what one would expect. It's a love story that goes south, and the unfortunate man and woman caught in the downward spiral are Dean (Ryan Gosling) and Cindy (Michelle Williams), respectively. This young couple's initial attraction to each other is clear, and marriage seems like a romantic forever-rendezvous and the most logical next step.
Altruistic bliss is their vision, but reality sets in during a five to six year-relationship, when money, alcohol abuse and the monotony of sharing your life with the wrong person builds mountains of regret and shows its face through apathy and verbal confrontations.
This movie is a miserable, brutal experience, but it acts as a warning shot to anyone who is contemplating jumping into a marriage based on butterflies-only rather than introducing at least some pragmatism.  So, that's a positive.  Consider "Blue Valentine" a 1-hour 52-minute public service announcement.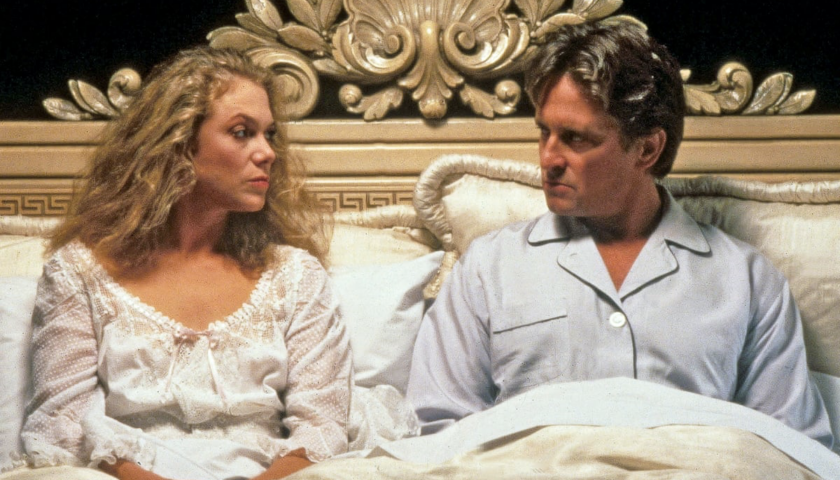 5. "The War of the Roses" (1989) – Michael Douglas and Kathleen Turner starred in the wildly funny action-picture, rom-com "Romancing the Stone" (1984) and its less-magnetic sequel "The Jewel of the Nile" (1985). Four years later the two paired up again in another comedy, but a dark one. Danny DeVito – who also acted in both previously-mentioned films – spins the story of Oliver (Douglas) and Barbara (Turner) Rose, a couple pitted in a vicious divorce proceeding that purposely delves into cartoonish altercations.
Barbara wants the divorce, and her point of contention is their house. She wants it, and everything in it, because she poured her heart into their abode during their entire marriage. Barbara won't let it go, and neither will Oliver!
DeVito does reveal happier days when the two first met and their early years of marriage, but cracks begin to appear which eventually shake their present-day foundation.
Anyone who has suffered through a divorce will probably reminisce (and shake about) their own troubled times, and be warned, PTSD might surface.   Just remember, it's only a movie, and your divorce is in the past.  I know…keep repeating it to yourself.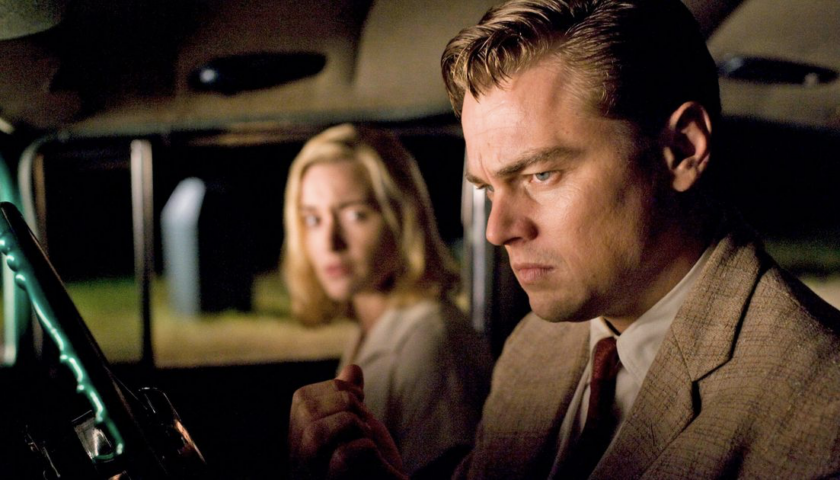 4. "Revolutionary Road" (2008) – Director Sam Mendes' cautionary tale about marriage lives in the 1950s, a time-cradle for suburban expansion, and Frank (Leonardo DiCaprio) and April (Kate Winslet) Wheeler put their best feet forward to raise a family.
While Frank gets tangled in the humdrum existence of a thankless corporate job, April stays home to raise children. They soon discover that their surrounding environment does not naturally fulfill contentment, so April suggests that their family just leave it all behind and runaway to Paris.
Peer pressures attempt to keep them fastened to their Connecticut lives, but the hope is that they find the strength to fly away.
Not unlike thousands of other movies, "Revolutionary Road" takes appropriate shots at the suburbs, but Mendes and screenwriter Justin Haythe let Frank's and April's frustrations breathe, which allows the audience to live inside their heads and develop empathy for both.  Kathy Bates and Michael Shannon co-star, and the Academy recognized Shannon with a most-deserved Best Supporting Actor nomination.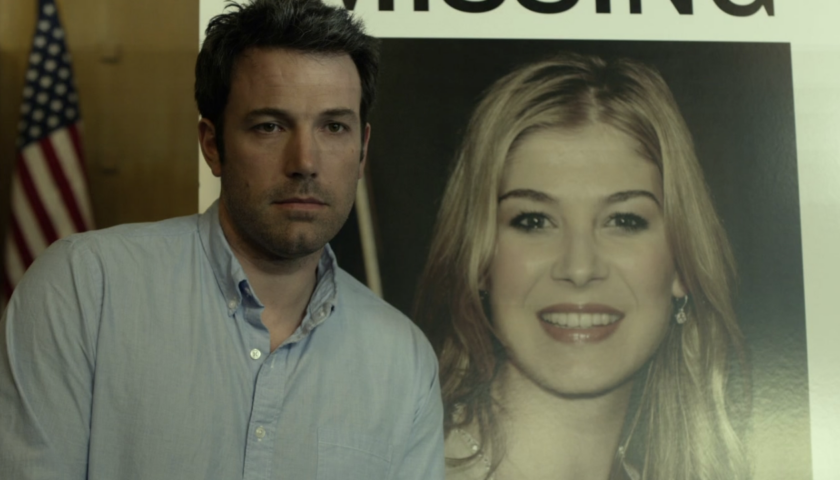 3. "Gone Girl" (2014) – Amy Dunne (Rosamund Pike) goes missing, and her husband Nick (Ben Affleck) is the prime suspect. Even though he insists that he had nothing to do with her disappearance, just about all eyes – including those glued to the television – believe that Nick killed Amy.
Director David Fincher's thriller closely follows Gillian Flynn's wicked novel, including some extremely heady surprises.  One of the best films of 2014, "Gone Girl" centers around a complicated marriage, and the appearance of a spousal murder is the least byzantine aspect of Amy and Nick's relationship.  Fasten your safety belts and brace yourself for take off, because "Gone Girl" is a bumpy ride.  Pike played the Gone Girl, but the Academy thought that she was very visible and nominated her for a Best Actress Oscar.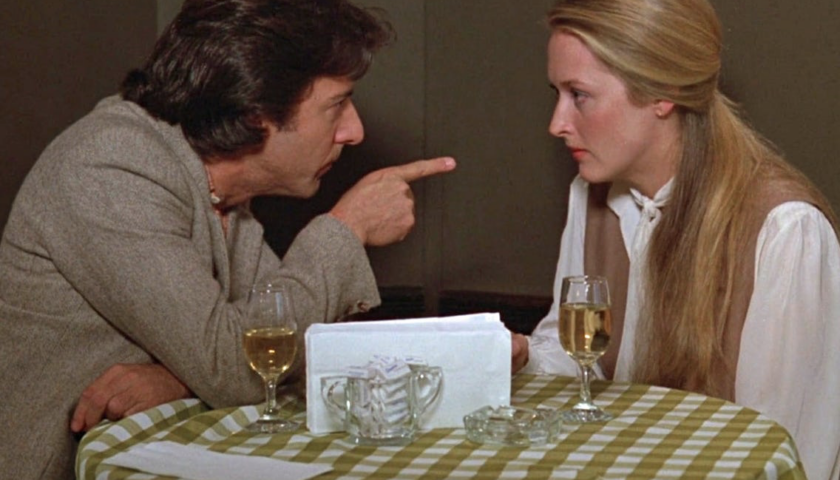 2. "Kramer vs. Kramer" (1979) – This Dustin Hoffman/Meryl Streep vehicle is an outstanding American movie – that garnered five Oscars wins, including Best Picture – about a not-so-great American pastime: divorce.
On an ordinary day, Joanna Kramer (Streep) simply packs up her suitcase and says good-bye to her husband Ted (Hoffman) right after he gets home from work. She explains (later) that she lost her self-esteem, was unhappy in their marriage and didn't feel worthy to mother their son Billy (Justin Henry).
On the day of reckoning – while standing in the elevator – she says to Ted, "He's better off without me, and I don't love you anymore."
Ted is in disbelief and denial but realizes the scope of his (and his son's) predicament the next morning when Joanna is not beside. In 1979, the Women's Liberation Movement hadn't reached every American household, so Ted never "needed" to prepare meals before, and as we see, making breakfast for Billy is not one of his strengths. Not by a long shot.
Housework and shopping just scratch the surface of Ted's new duties. He also needs to pick up Billy at school, read bedtime stories, provide discipline, tend to him when he's sick or hurt, and attend an occasional PTA meeting. Ted has become the exception to the rule in 1979: He is now a single male parent.
Of course, as one would expect, his parenting skills improve over time, but rather than standard TV-movie of the week clichés, Hoffman brings much more to Ted. He succumbs to all the emotional stages of loss, but we also feel the mounting pressure of his job and his new piled-on responsibilities at home. It's a trifecta of tension that pushes Ted to the limit. Not only does Hoffman successfully juggle these obstacles, but he captures the loving bond between father and son, and soon, a fourth obstacle of stress becomes the most daunting of all.
Even though Streep's Joanna is seen as the villain by abandoning her child, she engenders empathy for her predicament.  Joanna's limited role in their marriage truly is not acceptable, but in 1979, that was the norm.  "Kramer vs. Kramer" takes an important stance by shining a light on marriage inequality, and in the end, Joanna is not such a scoundrel after all.
1. "Fatal Attraction" (1987) – Don't cheat. Don't cheat on your spouse. Don't cheat on your spouse, or you'll find a bunny in a pot. That was the message delivered to every married man in 1987 in the wild psychological thriller "Fatal Attraction". When Dan (Michael Douglas), a married man, has a one-night fling with Alex (Glenn Close), he thought their "relationship" would only last one night, but she wanted more. Alex becomes relentless which threatens Dan's insulated world with his daughter and beautiful wife Beth (Anne Archer).
In Dan and Alex's on-again, off-again, off-again, off-again relationship, the threat of discovery or something far worse thoroughly tortured threatre audiences for 1 hour and 59 minutes. Although nominated for six Oscars, it did not win any, but the biggest oversight was the Academy denying Close a Best Actress Oscar win. Cher, instead, won for "Moonstruck", but 31 years later, does her performance in that light rom-com have three decades of staying power? No, but finding a bunny in a pot has never left American culture.
Trailer credits: Movieclips