Clive Owen turns 57 years young on Oct. 3, and this suave and reliable actor has been starring on the big screen for 33 years.  Let's celebrate the man's birthday, by looking back at his breakout film, "Croupier".
Happy Birthday, Clive, and thank you for your cinematic work! 
"Croupier" (1998) – Jack Manfred (Clive Owen) is a writer, a struggling one.  Yes, that's a seemingly eternal and cliché story for writers, but there's a long thread of truth and history with such claims.  While Jack grapples with putting pen to paper or typing on his antiquated (by 2021 standards) word processor, his dad finds him a lead for a job.   Jack interviews for a card dealer and roulette position, a croupier, at London's Golden Lion Casino.  It's a hot spot that looks fancy on the surface, but Jack's interview in Mr. Reynolds' (Alexander Morton) office eerily resembles Frank's (Robert Loggia), a mob boss from "Scarface" (1983), and we know how that movie ends. 
But I digress.
Anyways, Jack gets the gig, and at 450 quid a week, he can help pay the bills with his live-in girlfriend, Marion (Gina McKee), as director Mike Hodges spins our lead in an intriguing crime noir.  Over the 94-minute runtime – and with a Philip Marlowe vibe – Owen is everywhere and in almost every shot.  He also doubles as a narrator and refers to himself in the third person throughout the picture. There's an appropriate and apparent reason, but it won't be revealed here. 
What's obvious is that Owen shines in the role as an always-whip smart, sometimes-cynical croupier.  Jack is a guy who plays by the rules and bucks temptation, even though he dreams of a better life. 
For now, he works with absolute efficiency in taking people's money and looking out for Number One.  Jack may be a model employee, but he's not a perfect human being.  He's edgy and occasionally irritable as he walks on the edge between worker bee-altruism and his flawed environment.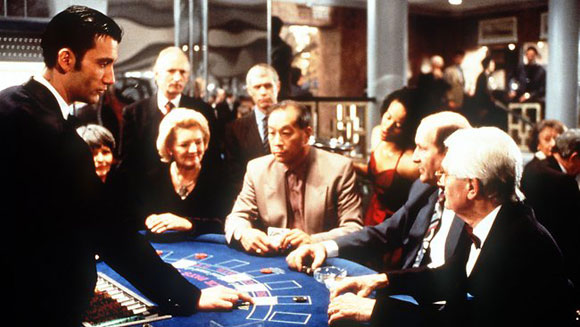 "Croupier" is Owen's breakout film, and with his cool demeanor, good looks, and black-tie wardrobe, it's easy to see why fans and critics speculated – at the time – that he would step into the iconic role as James Bond.  That honor went to Daniel Craig in a run that started with the fabulous "Casino Royale" in 2006, and Clive was the lead in the iconic sci-fi thriller "Children of Men" that same year.  If you wonder what might have been for Owen, you'll get a sense of it in "Croupier", but don't watch it for a Bond comparison. 
See "Croupier" for its merits, because it's a dapper film with an equally debonair lead.
⭐️⭐️⭐️ 1/2 out of ⭐️⭐️⭐️⭐️
Directed by: Mike Hodges
Written by: Paul Mayersberg
Starring: Clive Owen, Gina McKee, Kate Hardie, and Alex Kingston
Runtime: 94 minutes
Image credits: Alliance Atlantis