"Spencer" (2021) – Diana Frances Spencer was born on July 1, 1961 in Norfolk, England, and – seemingly – every moment in her life was cast in a spotlight – the size of the London Eye – beginning on July 29, 1981.  On that date, she became Diana, Princess of Wales.  Yes, a wealth of her experiences are well-documented, but perhaps, not those moments behind palace walls.  
Well, instead of steering into typical cinematic practices, director Pablo Larrain and screenwriter Steven Knight take a noticeably unconventional approach with their Diana biopic, "Spencer". 
Rather than gather a decades-long, chronological presentation, Larrain set his film over the 1991 Christmas holiday, about a year before Diana and Charles' separation. One could argue that "Spencer" is a slice of life picture because he captures Diana (Kristen Stewart) during ordinary events over three days. He opens the door to the Royals' Sandringham House and invites the audience to actively witness Princess Diana's encounters with family members, staff, and long stretches of alone time.
(Note, if Larrain's endeavor feels familiar, it should.  "Spencer" is a perfect companion piece with his 2016 biopic about Jacqueline Kennedy, "Jackie", where Pablo has a similar avant-garde style.)
Barely any of Diana's Christmas Eve, Christmas Day, and Boxing Day happenings bring any joy. Instead, she roams in her room, down countless hallways, and on the grounds under constant duress and emotional claustrophobia, primarily due to Charles' infidelity.
Very early in the first act, Larrain offers two scenes of foreshadowing regarding Diana's dilemma. First, two or three squads of soldiers rush into the Sandringham House with several heavy boxes that – I don't know – could contain grenade launchers, but the contents are – actually – quite harmless and welcoming! The point is that the regal formalities are as severe as a Monday morning heart attack. Second, Diana is lost while driving her sports car on Norfolk's winding roads. She stops for directions, turns to a group of strangers, and asks, "Where am I?"
Of course, this remark carries a double meaning.
She's filled with anxiety and sorrow and feels imprisoned, jailed by a thousand years of tradition, and Larrain feeds us nearly two hours of consternation with his camera almost always on Stewart and her portrayal of Diana.
During a Sept. 3, 2021 Fred Film Radio interview, Larrain explains his version of the said events. 
"Of course, there's a lot of fascination around Diana, and the Royal Family is very strict.  You don't really know much, and that gives a lot of room for fiction.  It was a way to enter in a psychological space of her, and that crisis is surrounded by the people and the conflicts that are in that moment of her life." Larrain says.  
So, "Spencer" isn't exactly a slice of life but an interpretation of her state of mind during that time. In short, the film takes liberties to communicate its views.
How much is truth, and how much is fiction?
"The Crown" (2016 – Present) devotees and history buffs could probably discern the differences through instantaneous analysis and commentary while sitting with you in a theatre. Then again, if you wish to keep conversation to a minimum during your 111-minute movie experience, go solo or with a Diana novice. Afterward, read the "'Spencer' Movie vs. the True Story of Princess Diana" article on historyvshollywood.com to find a foundation after this dizzying confrontation.
This uncomfortable story overflows with opportunities for empathy, as Diana is apparently without an ally, save her assistant Maggie (Sally Hawkins), a sympathetic head chef, Darren (Sean Harris), and naturally, her two young boys. Otherwise, she can't trust anyone, and the majestic walls have ears. The movie also wisely spends valuable minutes by contrasting broader views through Diana's one-on-one conversations with Darren, who shares his concern, versus Major Alistar Gregory's (Timothy Spall) firm hand, including one enlightening third-act exchange that cements her ultimate stress.
Even though Pablo fills his picture with gorgeous imperial splendor (filmed at the Sandringham House and two German locations: the Schlosshotel Kronberg and the Schloss Marquardt), Jonny Greenwood's decorative but also imposing classical string score, and Jacqueline Durran's impressive and ornate costume designs, "Spencer" rises or falls with Stewart's performance.
Yes, Kristen looks the part.  Even though Diana stood at 5' 10", and Stewart is 5' 5", Kristen's thin frame gives her the illusion of a taller stature on-screen.  She also receives a huge assist from the seven-person makeup team, who gets her hair precisely right.  Diana's trademark hairstyle was as iconic as Jackie Kennedy's, and right from the get-go – when we see her drive her sports car around Norfolk, UK – Stewart effectively establishes an initial acceptance as the princess just with a first look.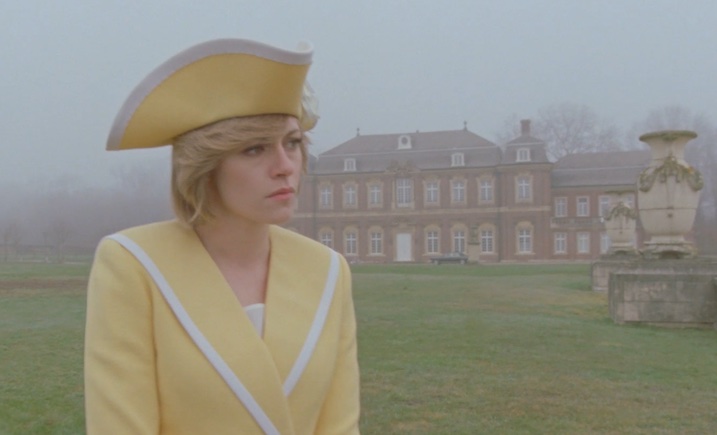 Does she deliver Diana's accent, cadence, and mannerisms with the utmost accurate precision?
I couldn't tell you, but I fully believed Kristen was Diana due to her resemblance and demonstrative pulls into trauma through matter-of-fact, polite conversations with ominous undercurrents and sudden, unexpected rises in distress.
"Spencer" is a challenging and traumatic time at the movies for both its aforementioned vision and content.  The screenplay and Stewart don't shy away from Diana's more private troubles, and except for 10 minutes of third-act flashbacks of happier years, the movie doesn't leave this three-day retreat from hell.  She's subsisting in a nightmare, and it truly feels that way, especially when Diana avoids – seemingly forever – attending two specific events.  Larrain also includes so many references of Princess Di's ultimate demise that you'd swear Death – complete with a black-hooded robe and a scythe – is constantly following her throughout this country estate.
Still, during this cinematic presentation, Diana is very much alive, but she vigorously looks for a way to live.   
 ⭐⭐⭐ 1/2 out of  ⭐⭐⭐⭐
Directed by: Pablo Larrain
Written by: Steven Knight
Starring: Kristen Stewart, Timothy Spall, Sean Harris, and Sally Hawkins
Rated: R
Runtime: 111 minutes
Image credits: NEON