"Next Goal Wins" (2023) – 2,555, 44,620, 77, 2,073, and 31-0.
American Samoa is an unincorporated U.S. territory, an island locale in the Pacific Ocean that sits 2,555 miles southwest of Hawaii. 44,620 people live on 77 square miles of tropical paradise.
Taika Waititi ("Boy" (2010), "What We Do in the Shadows" (2014), "Jojo Rabbit" (2019)) was born in Wellington, New Zealand, 2,073 miles southwest of American Samoa. In "Next Goal Wins", this whimsical, creative mind directs and cowrites an American Samoan tale based on actual events involving the world's most popular game.
On April 11, 2001, American Samoa lost a Men's FIFA World Cup qualification match to Australia, but the word "lost" barely scratches the surface.
Crushed, mashed, smashed, destroyed, massacred, and demolished are better descriptions for the team's 31-0 defeat at the hands of the Aussies.
Thirty-one to Zero!
Ten years later, the squad isn't fairing much better, as they – still – haven't scored a goal in international play. Simultaneously, the American Soccer Federation decides to send a lackluster, hothead, and vagabond of a coach, Thomas Rongen (Michael Fassbender), to manage the South Pacific squad in Taika's take on this true "The Bad News Bears" (1976) story.
Thomas needs to help turn these zeroes into heroes!   
"Next Goal Wins" is a sports comedy, or it attempts to fashion itself as one, but other than about a dozen or so sight gags and individual quips, the intended jokes – mostly involving the team's inept skills – fall flat, and the mundanely filmed action on the pitch doesn't inspire.
Worse yet, Rongen is a cantankerous, unlikable sort, and Fassbender's Buttermaker garners no empathy throughout most (the key word is "most") of the 103-minute runtime, so his arc barely registers by the movie's final whistle.
Whether the team wins or loses, we should want to hoist Rongen on our shoulders and carry him (and the team) out of the theatre, but by the end, a simple fist bump – born out of acknowledgment and politeness – and a speedy exit seem apropos.
Granted, the collection of misfit athletes earns audience endearment. Still, like many sports movies, there are so many players but limited on-screen minutes. Hence, Waititi focuses on a few personalities, including the team's president Tavita (Oscar Kightley), the goalie Nicky (Uli Latukefu), a cop named Rambo (Semu Filipo) with a wildly strong foot, and a trans woman, Jaiyah (Kaimana).
Tavita, the desperate-for-a-winner administrator (and he's pining for just one goal), introduces Rongen and us to Samoan culture. The man is a gentle, agreeable force and a one-man welcoming party with some amusing moments and a bizarre, raunchy one. Nicky is a tall, athletic ringer for the crew, and Rambo's best scene is an introductory one when he chases down a particular speed demon clocking in at 35 or 36 miles per hour.
Jaiyah garners the most player screen time.
Waititi, co-writer Iain Morris, and Kaimana feature her journey in a frank and sensitive manner, including Jaiyah dealing with hormonal issues and her new coach deadnaming her. Jaiyah and Thomas develop a delicate working relationship as player and coach, and the screenplay and the two actors offer a convincing run of initial conflict, acceptance, and collaboration.
Deciding where to place conflict becomes one of the movie's chief problems because the generally sociable, gracious players do not fight with each other.  No tension exists between them, and therefore, it's a missed chance for comedy.  And there are only so many times that one can sit through kicks that sail outrageously off target, tackles that are poorly missed, and easy saves that can't be reached.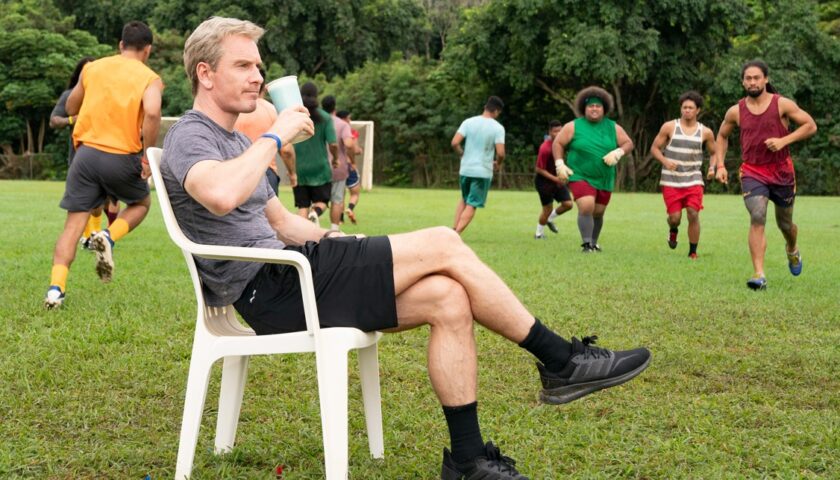 So, the tension is primarily set on Thomas' fish-out-of-water routine with the Samoan players, people, and culture. Barely any intended laughs register with the coach vs. players, and Fassbender (to my knowledge) isn't an experienced comedian. Michael delivers angst, disbelief, impatience, and frustration with his clumsy team, and the only glorious laugh-out-loud moment – that I can recall with these interactions – is when he quits for the day and leaves the coaching to a 10-year-old named Armani (Armani Makaiwa). That worked.
Still, Thomas shares frequent meltdowns, including embarrassing Bobby Knight routines, even when the team doesn't play badly. He ponders quitting, threatens to leave, and quits, so the strain is between the coach and players. There are plenty of opportunities to explore the anxiety of his experience with the Samoan people and cultures, but the picture fails to build on that idea.
Perhaps Waititi, the filmmakers, and Fassbender are playing the real Rongen exactly (or close to exactly) right, and his short fuse and disinterest are on point. Well, it's admirable that history might be valued, but the final presentation in its current state doesn't translate to a raucous comedy or a compelling drama, and quite frankly, it should be at least one. At least! So, Waititi is responsible for recognizing any comedic shortcomings upfront or with the dailies. It feels like Fassbender and the other thespians needed support to set them up for success rather than the filmmakers relying on eccentric puns from supporting characters.
Speaking of support, it is not easy to discern the team's improvement (other than recruiting new team members) and Rongen's contributions. The club does develop, but the line between A (for Awful) and B (for Better) isn't visible.
It's also unclear how plays and formations transpire and how teamwork occurs on the pitch.  Waititi and cinematographer Lachlan Milne film practices and matches at ground level.  The camera sits close by and rarely delivers broad views of movement.  Instead, in isolation, Jaiyah will dribble between defenders, or Rambo will set himself up for a rousing kick, while Rongen barks orders.  So, the game experience doesn't translate in the theatre, except for the designed big moments and the occasional shot from the last row of the stands, but – by and large – the film looks nothing like a televised soccer event.
Waititi and Milne didn't score on the field, but they capture some beautiful surroundings, including a stirring hike up a mountain, even though the filming occurred in Hawaii, not in American Samoa (according to IMDb).
So, cheers to Taika and the cast and crew for bringing attention to this American Samoa soccer story. I'm glad that I know this sports tale. Still, Taika Waititi is directing Michael Fassbender as a Buttermaker-type who coaches the worst international soccer team in history.
This movie should write itself!   "Next Goal Wins" should be a layup, a slam-dunk.  Sorry, wrong sport.  This film is a penalty kick with an open goal, but, unfortunately, the ball sails over the crossbar. 
1/2 out of
Directed by: Taika Waititi
Written by: Taika Waititi and Iain Morris
Starring: Michael Fassbender, Oscar Kightley, Kaimana, David Fane, Uli Latukefu, Semu Filipo, Elisabeth Moss, Will Arnett, and Rachel House
Runtime:  103 minutes
Rated: PG-13
Image credits: Searchlight Pictures