"Zola" – "You want to hear a story about how me and this bitch fell out?  It's kind of long, but it's full of suspense." – Zola (Taylour Paige)
This cinematic tale – "Zola", directed by Janicza Bravo – is based on a real-life 2015 Twitter post by A'Ziah Zola Wells, but this wasn't an ordinary mention about her birthday, an adorable pet video, or a delicious meal photo.  This 20-year-old delivered a mindboggling-long social media post that totaled 148 connected Tweets, and it detailed her dubious weekend with a brand-new friend, Stefani. 
(A'Ziah's viral, stormy yarn rocked the social media world and even inspired a November 2015 "Rolling Stone" feature by David Kushner.  Still, this movie was my first introduction into the misadventure, but hey, I possess the pop culture knowledge of a gnat that was born yesterday.)
As noted in the aforementioned quote, Zola and Stefani weren't pals for terribly long, and with good reason.  Have you ever made a friend, especially during your youth, but quickly realized that reality tripped your leap of faith with this individual?
"You aren't who I thought you were," might cross your mind with the urgency of a police car siren blaring while you and your car careen off a cliff.   
No question, I've made some terrible choices with faulty reads on supposed positive first impressions, but – thankfully – our individual Spidey Senses and aptitudes to internalize "Danger, Will Robinson" improve with age.   
For Zola – a waitress – warning lights and alarms didn't immediately go off when Stefani (Riley Keough) sat in her section and desperately wished to be her instant buddy.  Within 24 hours, however, Stefani – a stripper – convinces Zola to travel to Florida for a lucrative weekend of performing at a hot club to make five thousand dollars a night…each!  Zola, an exotic dancer herself, did question this abrupt invitation, but hey, Stefani seems okay, and the potential to score 10 grand for a two nights work can shove away a warning bell or two…or three.
So, our protagonist faces a 26-hour road trip to Tampa with Stef, her new BFF's wimpy, whiny boyfriend Derrek (Nicholas Braun), and a tough guy who haphazardly barks orders (Colman Domingo).
What could go wrong?
Well, screenwriter Jeremy O. Harris and Bravo – who also co-penned the script – lead us down a 90-minute bait-and-switch and into a seedy, misguided trek.  Zola becomes an unsuspecting victim, and she's led by an idiot-triad who then meets even more imbeciles during their brief stay in The Sunshine State.  The said party's collective incompetence is as ever-present as Florida's humidity.  Bravo and Harris also promote peril and emotional claustrophobia because – as an audience – we feel as trapped as Zola due to her lack of immediate options while away from home. 
On second thought, we feel stuck.  At least, I did.  Stuck and frustrated in acidic, shady, inept happenings for an hour and a half, and outside of Zola, no other characters show any redeeming traits. 
Zero, zip, and zilch.
Stefani's unnamed friend (Domingo) routinely schemes and bullies.  Sure, Stefani claims that he "takes care of (her)," but that's code for something else entirely.  Stefani manipulates Zola from start to finish, and Derrek's sad-sack routine gets old after two minutes, although he does wish that his girlfriend's exploits would end before they begin, albeit for jealous reasons rather than an altruistic stance.  In fact, Derrek might be the most ineffectual 6' 7" character in recent movie history.
With a road trip full of trite banter, an aging, smelly hotel, and even a stop in a restroom, where an overhead shot of the women using the toilet shows clear displays of their fluids in the bowls, Bravo makes us uncomfortable and sets a mood.
But, the tones don't quite add up.  The movie feels like it should be a comedy and satirical take on Zola's unfortunate couple of days.  There's a buffoonery of it all, but then again, I only uttered a couple of laughs, but a Florida dancer's prayer to bring in customers is pretty darn funny.  As a drama, it, perhaps, hopes to be a miserable horror show, as Bravo holds up a mirror to 21st-century American society, and we don't like what we see.
Her debut feature, "Lemon" (2017), has similar effects, as Brett Gelman plays Isaac, the creepiest weirdo this side of the "Office Space" Stapler Guy, and he accidentally drops his phone in an actively used toilet bowl as his on-screen crescendo.  Hey, following that guy's 83 minutes of misfortune was a painful trip to the movies, but it was all by design.  At least in "Zola", the ladies' bonding in the loo didn't end in an iPhone disaster.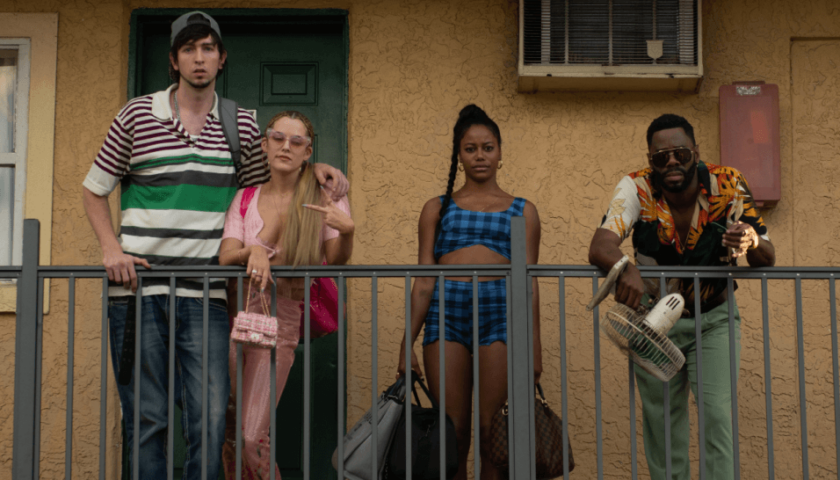 "Zola" isn't a disaster.  It's edgy and uncompromising.  Bravo has a visionary perspective in capturing backward thinking, and Paige and Keough give convincing, brave performances.  The film's repeated on-screen undertakings leave a mark, although – like "Lemon" – this is a film that you might not wish to revisit.  I don't.
Think of a bad dream, a slip and fall on the ice, or a wrong turn into an abandoned, rusted-out manufacturing plant.  They are all unpleasant bothers, but we wake up, stand up, or turn around.  We move on.  Sure, "Zola" leaves an impression, but one of inconvenience, and hopefully, it doesn't last. 
The movie doesn't have a grand message like other troubling features, like "The Florida Project" (2017), an open, visceral drama about the working poor.  Yes, Bravo's film does cause some anxiety, but nowhere near the torturous, suffocating thriller "Uncut Gems" (2019), where heroes are few and far between as well.
No, this is a no-frills movie about a pitiful, painful weekend, and indeed, we've all had lousy ones, granted, not as dicey as Zola's.  Then again, she said that this account "is kind of long, but it's full of suspense."
The film runs 90 minutes, which is too long to be so stuck. 
⭐ 1/2 out of ⭐⭐⭐⭐
Starring: Taylour Paige, Riley Keough, Colman Domingo, and Nicholas Braun
Directed by: Janicza Bravo
Written by: Janicza Bravo and Jeremy O. Harris
Runtime: 90 minutes
Rated: R